Your Four Paw Doctor
We are committed to providing veterinary care to preserve and restore the health of your pet through our knowledge and skills.
Royal Oak Pet Clinic
Our professional, compassionate and knowledgeable staff will treat your pets as their own, like family. We all have pets of our own, so we know and understand the love and friendship you feel for them. Every animal that comes through our doors is treated with care and respect.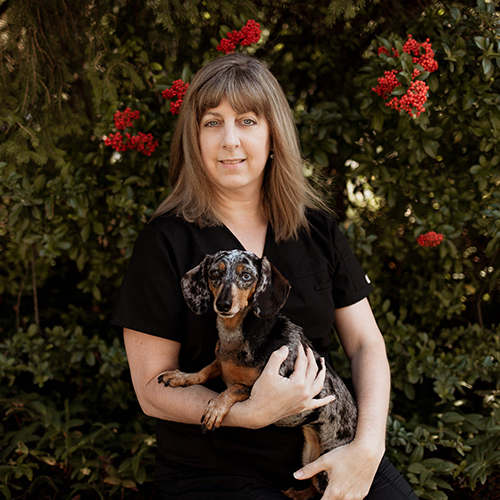 Dr. Chambers has strong ties in the community as she grew up in the Gordon Head area of Victoria and graduated from Mt. Douglas High School. In 1992, she obtained her Bachelor of Science degree in Biology, with a focus of study on Anatomy, Physiology and Animal Classification, from the University of Victoria. In 1998, she completed her Doctor of Veterinary Medicine degree from the Western College of Veterinary Medicine at the University of Saskatchewan in Saskatoon.
Dr. Chambers has worked her entire career in Victoria, first as an associate veterinarian for 3 years and then as an emergency veterinarian at the Central Victoria Veterinary Hospital. In 2002, she took over the Royal Oak Pet Clinic and ever since has been focused on the care of her clients and their pets.
Dr. Chambers prides herself on providing thorough examinations and internal medicine workups. She believes in discussing options with owners to allow them to make informed decisions about their pets' health. Dr. Chambers has taken post veterinary school training in surgery and dentistry in addition to other areas of interest. She performs the majority of the surgery and complex dentistry for the practice. She continues to expand her skill set on a yearly basis to better serve the clients and patients of Royal Oak Pet Clinic.
In her time off, Dr. Chambers enjoys being with her family and multitude of pets. She is an avid gardener, and has recently started beekeeping, with great success. For a real escape, she will head up to Horne Lake, with her family, to spend time at their off-grid cabin.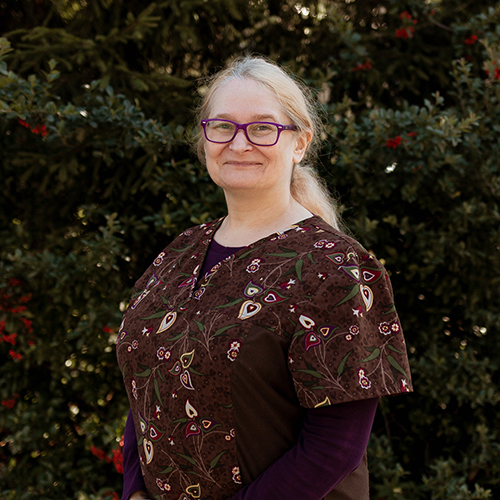 Anik was born in Montreal and grew up in Belgium. Upon returning to Canada, she completed an undergraduate degree at McGill University in Montreal. She eventually settled in Toronto. After working at various jobs, including as a Strategic Planning Consultant for the Ontario Provincial Government, she decided to follow her passion and apply for entrance to the Ontario Veterinary College. She completed her studies in 2014, and promptly moved to the "Best Coast." She has a strong passion for feline medicine and commitment to animal welfare, including low stress handling and examinations, pain management, and palliative care.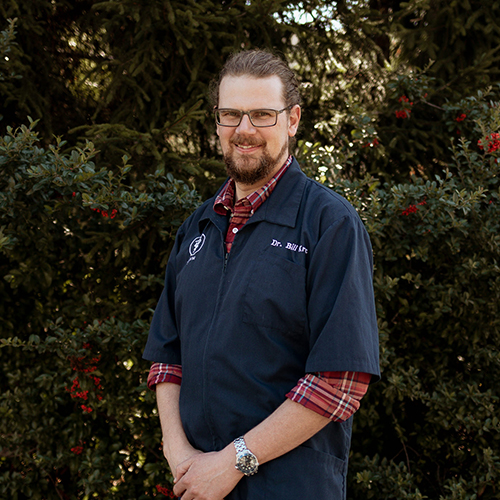 Dr. Krc was raised in Prince George but spent much of his holiday time in Vancouver, and so feels like his youth was a tale of two cities: one of outdoor recreation, harsh weather, and resource-based economy, mixed with cafés, shopping centres and temperate big city living. After completing his Bachelor of Science in Wildlife Biology and Bachelor of Education in Secondary Science, Bill endeavoured to combine his love of animals and education with veterinary medicine. He spent most of the next thirteen years in Saskatchewan, completing his veterinary degree and supporting his partner, Kirsty, during her residency; they returned home to BC in 2013.
Currently, Bill spends most of his time at home, raising their two young children. For recreation, Bill enjoys amateur photography and has recently revisited mountain biking. He is finding the West Coast technical single-track to be a steep learning curve in contrast to the Interior and Plains cross-country biking he did before. As for family members with four feet, Bill currently has none, as his heart has not quite mended from the brilliance that Sheri (cat) and Josie (dog) shone on his life until recently. He does have his eyes open, however, knowing that mountain biking in the Pacific Northwest is not complete without a trail dog/cat to keep the groms in line, and that portrait photography is easier with these family members, as they generally are more cooperative with posing suggestions.
Bill enjoys practicing preventive care medicine with his feline and canine patients, so clients can maximise their time with their four-footed family members. His aim is to make his patients feel as comfortable as possible during their visit, and to perform procedures and exams with the utmost care and attention.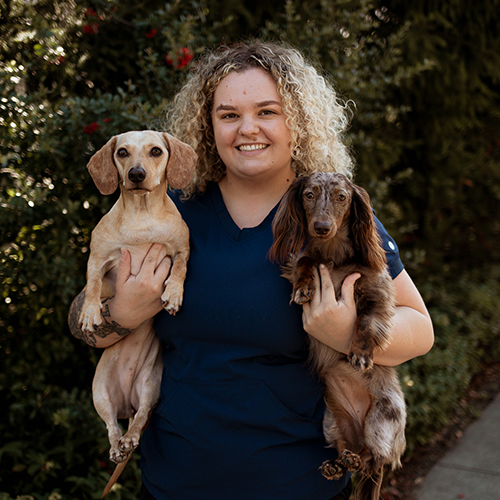 Miranda graduated from the Douglas College Veterinary Technology program in the summer of 2017. After graduation, she made the move from mainland BC to Victoria and instantly fell in love with island-life. Since graduating, Miranda has gained experience in emergency care & specialty medicine. Miranda prides herself in providing gold-standard care to all of her patients and tailoring to their needs. Her areas of special interest include small animal anesthesia and analgesia (pain control), as well as nutritional management. In her spare time, you can find Miranda exploring the outdoors with her two Miniature Dachshunds, Cricket and Roo, or caring for her 3-footed Eyelash Crested Gecko, Ziggy.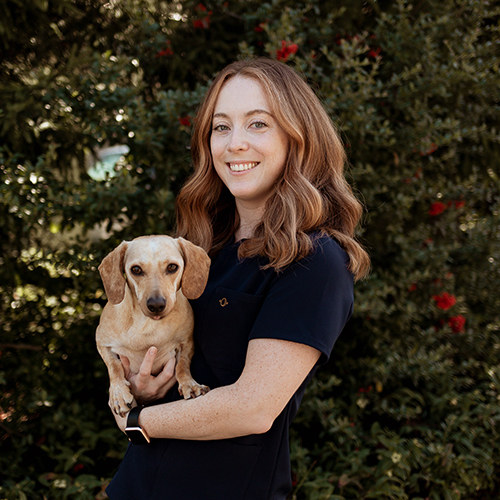 Sydney grew up always wanting to work with animals. After completion of her Bachelor of Science at Vancouver Island University, Sydney spent a year travelling in Australia before coming back to Vancouver Island to work in veterinary medicine. Despite always wanting to become a veterinarian, shortly after starting her career Sydney decided that becoming a Registered Veterinary Technician was her goal. She is now in her final semester of the Penn Foster Veterinary Technician program and is constantly working on advancing her skills, and upholding gold standard medicine. At home Sydney lives with her rescue cat, Dobby, who loves to spend all of his time playing, snuggling, and wanting attention.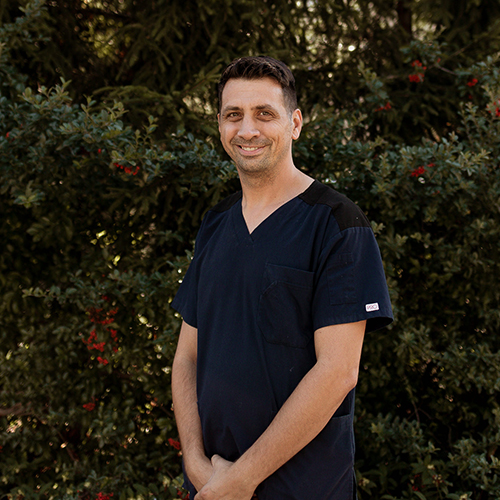 Tyler recently moved to Victoria with his dog Luna, an Australian Shepard. He brings with him over 25 years of animal experience that includes reptiles, arachnids, tropical fish and pocket pets. His passion for animals started at a young age and two years ago Tyler graduated from the Veterinary Office Assistant program at Douglas College. Tyler has a special empathy when it comes to animals and wants their experience to be as stress-free as possible when they visit the vet. This desire led Tyler to become Fear Free certified last year. When he is not at work, Tyler enjoys the outdoors and is looking forward to learning all of the kayaking spots Victoria has to offer. His other interests include trading stocks, cooking, and tending to his ever-growing house plant collection.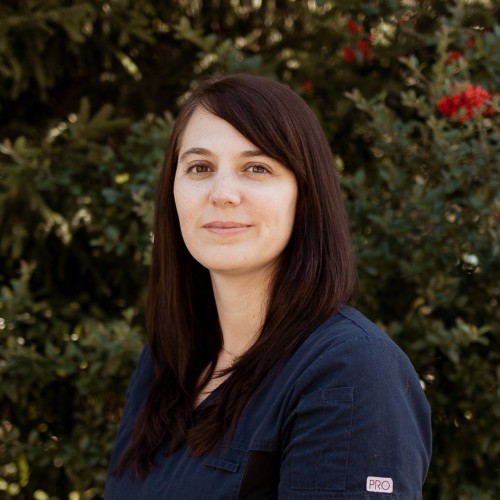 Catherine grew up in North Saanich and has had a strong love of animals her entire life. Having had almost every type of pet under the sun at one point or another, it was no surprise to her parents when she started working in a veterinary hospital while still in high school. Catherine graduated from UVic in 2007 with a Bachelor of Science in Biology and Environmental Sciences and joined the team at Royal Oak Pet Clinic in 2017. When she's not working, Catherine spends her time outdoors, enjoying our beautiful island, or volunteering with animal rescue organizations, both locally and internationally. She enjoys traveling and photography, and in the summer months Catherine can often be found on the beach volleyball court. At home she is ruled by several cats of her own, as well as any other species of foster pet that needs a temporary home.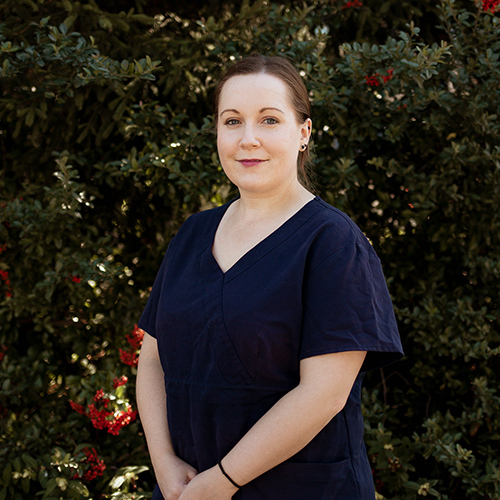 Chantal got her start in the veterinary world while volunteering at a clinic in Edmonton in 2005. What was supposed to be a summer of volunteer experience turned into a full-time job for more than 6 years. In 2012, Chantal left the clinic in Edmonton to pursue studies in Acupuncture and Traditional Chinese Medicine. After practicing for several years as a Registered Acupuncturist, her love of animals brought Chantal back to the field of veterinary medicine. She has been a member of our team since April 2021. When Chantal isn't busy spoiling her family's cat, she enjoys traveling, cooking, soap making, painting and mushroom hunting.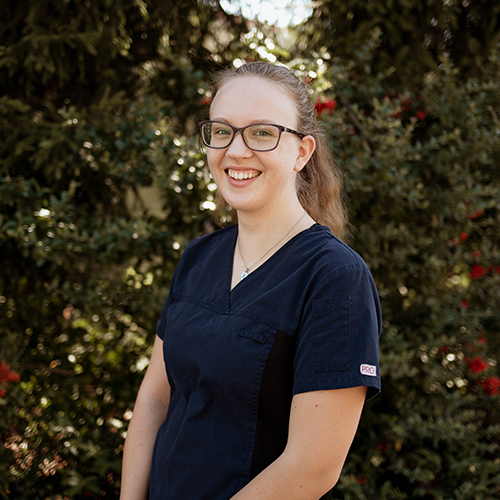 Courtney grew up on the Saanich peninsula and could always be found with an animal in hand, whether it be a wood-bug or a horse. She has been working with pets large & small since she was a teenager and has been horseback riding since she was very young. Courtney joined the Royal Oak Pet Clinic team in 2020 and graduated from Uvic with her Bachelor of Science in 2021. Courtney is working toward becoming a Veterinarian. On her days off, Courtney can be found exploring the outdoors, horseback riding, spending time with family & friends, or sitting in a sunny spot with her nose in a book. She has one cat at home named Hershey who is happy to curl up and cuddle with her in the winter months.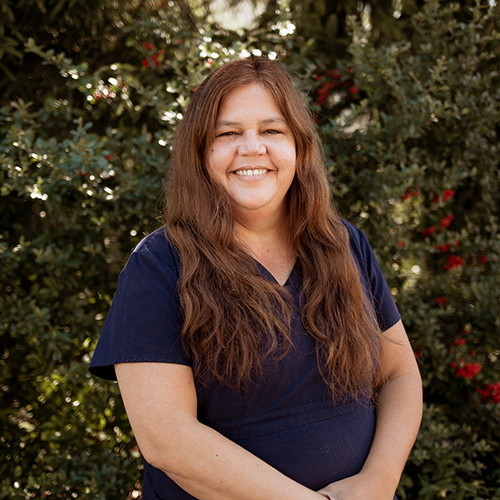 Teka spent a good portion of her early years working with children and youth, but made the shift to veterinary medicine when she joined our team in 2005. Her love of animals blossomed when she was very young thanks to a cat named Sambo and a dog named Gandalf. Teka has had several different pets over the years, including: hamsters, guinea pigs, turtles, mice, fish, cats and dogs. She is currently managed by her cat, Random Pancakes, and loved by Alistar, her Schnauzer mix. In her spare time, Teka can usually be found at a nearby Tim Hortons reading or visiting with friends.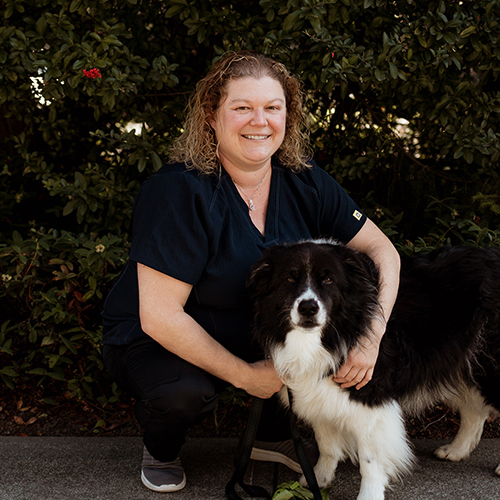 Kathy is a born-and-raised islander, having only left briefly when her husband moved to Alberta for work. She has spent 15 years working in veterinary hospitals and clinics and has a special interest in dog behaviour and pet nutrition. Kathy is also an active volunteer with the Australian Shepherd Rescue and Placement Helpline. Growing up, weekends and summers were spent on the family boat cruising the Gulf Islands and Desolation Sound. When not with her family, Kathy played many instruments and a wide variety of sports. She now shares her life with her husband and their 2nd Australian Shepherd, Mako, who thinks life is amazing all the time.